Navel Oranges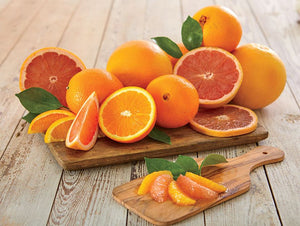 Ship a box of Florida sunshine to friends and family near and far. Food always fits, and our bright, sweet and seedless Red Navel or White Navel Oranges make a welcome gift for anyone on your list. They'll be impressed with the flavor of these easy-peel oranges too.
Your oranges are still on the tree when your order is received, which means they're picked when perfectly ripe and pass a six-point inspection to meet our highest quality standards. Then they're hand-packed and shipped to arrive at their peak of freshness.
There's a size that's just right for everyone, from a small sample to one that's big enough to share. Indulgent yet healthy, these citrus treats are low in calories and full of nutrients.
Grove Navel Oranges
Shipped fresh in season
Great gift: deliver oranges to family and friends
Indulgent in flavor, rich in vitamins
Sorry, there are no products matching your search.