Temple Oranges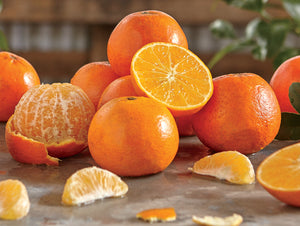 This orange variety is a rare treat. Temple Oranges are both tangy and sweet, with abundant juice. Their thin skins are easy to peel and they have little pith, making them a snacking favorite. Hale's Queen of the Crop Temples are bright and tangy on the palate, with a sweetly mellow finish that lingers long after the last drop disappears.
Never heard of them? That's because their extra-thin skins simply won't stand up to mass commercial shipping, so we select just a few of the very best and expertly cushion-pack them for perfect arrival. Reserve yours right away, harvested in February.
Hard-to-find orange variety
Exotic citrus makes a great gift
Thin-skinned orange with little pith
Great for snacking and juicing
Sorry, there are no products matching your search.